Earlier this month, the Cambridge Semantics team set off for Grapevine, Texas, for the Gartner Data & Analytics Summit 2017 to join more than 3,000 big data industry customers, Gartner analysts and solution providers in the continuing discussion on driving business intelligence and analytics forward.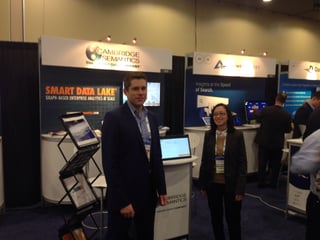 This is one of my favorite shows to attend each year in terms of scale, organization and flow, and the caliber and knowledge of the people attending. From our conversations and interactions with more than 300 people – at the booth and during our presentations – we identified a few themes that were resonating at the event:
Data Lakes: This year there was a greater level of awareness around the data lake, and we received inquiries from a number of people about how to add a semantic layer of meaning across their data lake.
Graph-Based Technologies: Many attendees were drawn to the word "graph" on our booth signage, which brought up the discussion of our Anzo Graph Query Engine (AGQE), the most advanced in-memory graph analytic engine built to accommodate wide varieties of complex data. AGQE enables users to execute rich analytics to uncover interesting connected patterns in their data.
Modern Architectures: Companies are beginning to realize that the traditional approach to analytics, such as relational databases and ETL (Extract, Transform, Load) processes, are not enough for today's enterprises. Many are seeking modern data architectures and are in the process of educating themselves on the solutions currently on the market.
Cloud Economics: We saw a lot of interest in the cloud and cloud economics, which solves semantic performance issues and shifts IT spending to a pay-as-you-go model; you only pay for what you use, when you use it.
Data Fabric: The notion of a 'data fabric' came up quite a bit – a distributed, memory-based data management platform that enables companies to retain choice and control over their data.
Through our discussions, it is still apparent that our Anzo Smart Data Lake® (ASDL) is unlike any other on the market, built for end-to-end graph-based data preparation, management, integration, analysis and governance. We also previewed ASDL 4.0 for the first time – an end-to-end single set of tools with a consistent experience built around the same data source model, all the way through business user self-service access to the data. We are currently in beta with this product, but look forward to announcing more details soon.
Overall, the Gartner Data & Analytics Summit was a successful event for the Cambridge Semantics team. We received valuable insight from attendees and presentations across all industries, including financial services and life sciences, and are excited to see what the next year will bring for the data lake.
To learn more about the Smart Data Lake, download our whitepaper here.