Driving business value from your data often requires integration across many sources. These integration projects can be time consuming, expensive and difficult to manage. Any short cuts can compromise on quality and reuse. In many industries, non-compliance with data governance rules can put you firm's reputation at risk and expose you to large fines.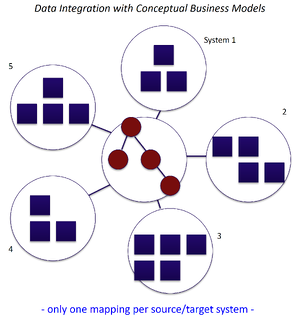 Traditional data integration methods require point to point mapping of source and target systems. This effort typically requires a team of both business SMEs and technology professionals. These mappings are time consuming to create and code and errors in the ETL (Extract, Transform, and Load) process require iterative cycles through the process.
The 'smart' way is to replace the point to point mapping of traditional ETL with reusable mappings from source and target systems to conceptual business models.
Other 'smarts' include –
Giving Business Analysts an easy interface to map systems to conceptual models
Mapping sources once and reusing many times
Automatically generating ETL jobs for standard industry platforms
Basing these conceptual models on industry standards such as FIBO, CDISC etc.
Check out the recording of our webinar and learn more about Smart Data Integration® and how it can reduce the time and costs on your Data Integration projects up to 10x.