As we head toward 2018, we want to take this opportunity to look back at the most popular posts of the year from The Smart Data blog.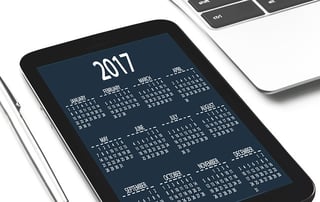 We hope readers who may have missed these previously will have a chance to catch these reader favorites from 2017. You may also notice a few of the posts are from 2016. That's because these posts continued to attract a high viewership in 2017, qualifying them for a command performance.
Creating Semantic Layers to Realize Information Fabrics – October 5, 2017
Sam Chance, Managing Director, Pre-Sales, Solution Engineering, explores how integrating semantic layers, the cloud and any available data assets will result in simple and secure access to all available information. The more connected our data becomes, the more informed the answers to our queries. The more accurate the answers, the more effective our decision making.
Government 'Open Data' Initiatives Should Incorporate 'Smart Data', Too – November 7, 2016
In this post, Steve Hamby, Managing Director, Government, shares Cambridge Semantics' views on the open data standard by the U.S. government, stemming from the State of the Union Report of Open Data 2016, published by The Data Foundation.
Allow Us to Introduce Ourselves – December 27, 2016
This post was inspired by the Strata+Hadoop World 2016 event in New York City, where Marty spoke to a gathering of attendees about who we are and what our platform does.
In this webinar, we introduce Anzo Smart Data Lake 4.0, which provides a rich and interactive semantic layer to the enterprise data and analytics stack, delivering true on-demand access to data, answers and insights.
Semantic Graph Databases: The Evolution of Relational Databases – July 20, 2016
In these slides from a webinar by industry legend Barry Zane, Vice President of Engineering, he outlines the evolution of databases from Relational to Semantic Graph and the Anzo Graph Query Engine, the key element of enterprise scale in the Anzo Smart Data Lake.
This post delves into Cambridge Semantics' setting a record for the Lehigh University Benchmark (LUBM) for loading and querying one trillion triples with the Anzo Graph Query Engine (AGQE), our massively parallel, in-memory graph database. The benchmark was executed more than 100 times faster than the previous record set by Oracle in September 2014.
What Is a Data Mart? – November 25, 2016
In this post, we explore the basic concept of a data mart, which is a simple form of a data warehouse that is focused on a single subject or functional area. Like data warehouses, data marts implement the characteristics of governed, non-volatile, and integrated data.
Q&A with Sean Martin, CTO and Co-founder, on Anzo Smart Data Lake 4.0 – December 11, 2017
Sean returns to answer questions about the unique and user-friendly capabilities of the latest version of our flagship product, Anzo Smart Data Lake 4.0, and the new platform's potential impact on current and future markets.
This post by Marty Loughlin, Vice President, Financial Services here at Cambridge, is an instructive overview on how to use smart data lakes to meet the requirements of financial industry regulations such as BCBS 239.
Welcome to the Semantic – or 'Smart' – Data Lake Revolution – May 12, 2016
Our most popular post of the year details the 'smart' data lake revolution, founder and CTO Sean Martin's in-depth look at the transition from data warehouses to data lakes while attaching context and meaning to huge volumes of diverse enterprise data.
Thanks for reading The Smart Data blog. We wish you a safe and happy holiday season!